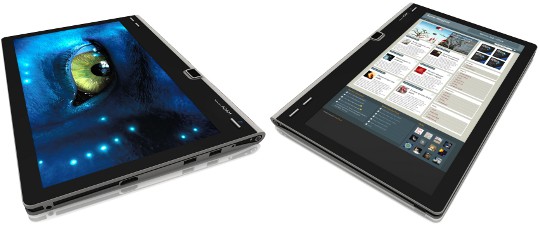 Everyone in tablet-land is waiting for a new device that can take on the iPad, something that supports Adobe Flash and isn't hampered by Apple's proprietary closed-in software.
One of the main contenders for this onerous task, according to main-stream-media, is Notion Ink, a startup company based in India. Notion Ink's device is called the Adam, and there are actually two models in production, one with a regular LCD screen and a more advanced variety that uses Pixel Qi technology.
Pixel Qi is a variation of LCD technology that is extremely energy efficient because it can use ambient light as a source to illuminate the pixels on the screen, without causing the screen to fade in bright light. The backlight can be turned on and off, depending on the lighting conditions. (Here's a really good article about Pixel Qi if you want to learn more.)
Notion Ink's latest update on their blog was June 9th, where they indicated everything is on track and that they plan to release the Adam in India initially, with global release plans later. The blog post includes a poll asking what will you mostly use the Adam for?
I found the results surprising. First off, let's start by looking at the poll itself. It doesn't say how many participated in the poll, but judging from the 174 comments left on the post and the 177,000 views the YouTube video on their website has received in the last six months, it's fair to assume a good many people voted.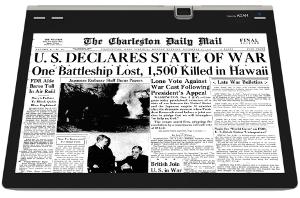 So here's the results.
The #1 thing people want to use the Notion Ink Adam for is internet surfing, coming in at 28%. No surprise there. But the #2 overall thing that most people want to do with the Adam is use it to read, with 21% of the vote.
That's not something that I would have expected with a full-fledged multimedia machine capable of displaying HD video, playing video games, music, etc. In fact, entertainment (video, music, etc) comes in at #3 with 19%, just behind reading. Email is next on the list at 11% and then follows productivity (editing, annotation) at 8%.
Creative Stuff (drawing, painting, photo editing, etc.), video calls, gaming, and photography finish off the list.
I guess maybe the poll results shouldn't be that surprising. The Notion Ink Adam as an ebook reader will have a lot of perks. The Adam will run Android 2.2, and all of the major ebook retailers—Amazon, B&N, Kobo— have said they are working on Android apps.
Combine that with the improved readability in all lighting conditions with the Pixel Qi screen and extended battery life thanks to the new NVIDIA Tegra 2 processor, and the Notion Ink Adam just might be the next big multipurpose ereader.
So when is the Notion Ink Adam going to be released, you ask?
They haven't made anything official just yet, but here's an interesting quote from the co-founder Rohan Shravan on the same blog post:
We have closed the final round of funding and are now in perfect sync with our investors. This is extremely good news for everyone. I say that, because if we have Global ambitions, there must be someone who can help us achieve that. And now we have got the muscle power.
Source: Notion Ink
We'll be posting a Notion Ink Adam preview page in the near future with all the specs and information about the Adam, along with updates. Subscribe to our
RSS feed
to keep in the loop.