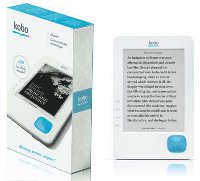 The Kobo Reader, the once most cost-effective option for a 6-inch ebook reader (the Nook Wi-Fi now holds that title), just got its first firmware update to improve some of the initial problems with EPUB font sizing and power management.
Kobo will be releasing the update over the next 2 weeks to different countries where the Kobo eReader is sold, starting the week of July 5th in Canada. There are two different ways to do the update. One is to download a new version of the Kobo Desktop application and let the install wizard walk you through the steps.
Or, if you live in Canada and bought the Kobo Reader from an Indigo, Chapters, or Coles store, you can take it to the store you got it from starting July 5th and have the staff update the device using an SD card to do the update. This option requires that you re-sync your ebooks after the update process.
These in-store options for the update in other countries will be announced within the next week for Borders (US), Borders Australia, Angus & Robertson, and Whitcoulls.
If you are the impatient sort, you can sign up via the link on Kobo's Blog to get early access to the update now.
Some Features of the Kobo Firmware Update
The update fixes problems the Kobo Reader had with re-sizing fonts in EPUB ebooks not from Kobo Books. Now the Kobo can re-size fonts for all EPUB ebooks no matter where they were downloaded from.
Kobo added some power-saving features to help increase battery life. The Kobo now enters sleep mode after 15 minutes of non-use and then turns off completely after 30 minutes. Early reports from Kobo Reader owners is that this is annoying because the device has to power up each time it turns off, which takes about 30-45 seconds.
The update now allows users the option to show or hide the preloaded free classics, and fixes a number of other miscellaneous bugs.
Visit the Kobo Blog for more information about the new update and how to install it.