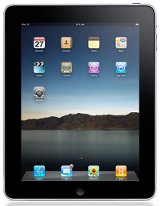 As far as first-generation electronic gadgets are concerned, the Apple iPad has experienced a relatively smooth launch up till now. No major issues or bugs or faulty parts—new iPhone owners haven't been so lucky.
The iPad's main issue has been with Wi-Fi. While many iPad owners haven't experienced any issues using Wi-Fi, there's been a number of reports from people having trouble with the strength of the iPad's Wi-Fi signal, dropped signals, and Wi-Fi being too slow at times, especially when streaming video.
Fortunately, Apple released a new version of firmware for the iPad this week, version 3.2.1, that promises to improve Wi-Fi connectivity, among some other minor changes such as adding Microsoft's Bing as a search option to the Safari web browser, a subtle political move, no doubt.
Here's the list of bug fixes and improvements according to Apple:
Improved Wi-Fi connectivity.
Fixed an issue that could prevent copy and paste of single-page PDF attachments in Mail.
Addressed issues that causes video playback to freeze.
Improved reliability of video-out when using iPad Dock Connector to VGA Adapter.
Added Bing as an option for Safari's search field.
The update applies to all models of the iPad and is now available for download through iTunes.