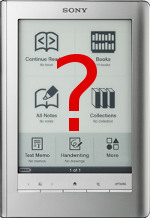 Amazon got the jump on the new Pearl screens from E Ink with the release of the Graphite Kindle DX and the new WiFi-equipped Kindle 3. In fact, that's one of Amazon's major selling points: 50% improved contrast! 10:1 contrast ratio! Buy now!
Although we were all expecting Amazon's next Kindle to have a color screen, the monochrome Pearl screens are a definite improvement over the old, but it doesn't necessarily mean that you have to go and buy a new Kindle just to get one.
All the major ebook readers on the market, including the Sony Readers and Barnes and Noble Nook, all get their electrophoretic displays from the same manufacturer: E Ink.
So there's no question that Sony's new readers and the Nook (or Nook 2) will eventually get the new Pearl screens too. The only question is when.
Judging from past releases, Sony usually announces a new reader in August or September. And Sony's actions over the past few months of signifigantly lowering the price of all three of their current ebook readers, especially the PRS-600, suggests that this year won't be any different.
Sony's PRS-600 hasn't gone over as well as it could have with the touchscreen causing reflection and lowering the contrast of the text. Sony has lowered the price of it the most, probably because it hasn't sold as well as the other two units. It recent weeks it has been listed on Amazon for as low as half the price of its initial MSRP of $300.
Given the popularity of 6-inch ebook readers, the PRS-600 is the unit that will most likely see a replacement first. And Sony's touchscreens could majorly benefit from the new higher contrast screens.
As for Barnes and Noble, they too will want to start getting the new screens in both models of the Nook to counter the edge that Amazon currently holds in that category. The biggest question, though, is will we see a new Nook, a Nook 2, anytime this year?
It doesn't really seem very likely for B&N to release another 6-inch Nook this year now that they just released the Nook WiFi, but it isn't out of the realm of possibilities that Barnes and Noble could release a Nook with a larger screen size before the end of the year to compete with the Kindle DX.
With the recent announcements of NookStudy and partnerships with Blackboard, Flat World and others, Barnes and Noble continues to strengthen its position in the higher education market, already having over 600 on-campus retail stores. Given that, it makes a lot of sense for Barnes and Noble to come out with a device designed for textbooks and college students.