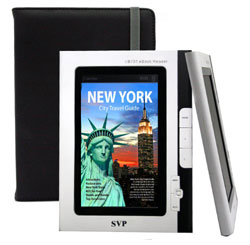 Here's a look at a 7″ color ereader from SVP that I happened to find listed on Amazon.com, buried deep down, hard to find.
Like many other 7″ LCD ereaders, the SVP EB701 is a multipurpose device that can play videos, music, and display photos. For ebooks it supports Adobe DRM (EPUB and PDF) as well as DRM-free TXT, HTML, DOC, WORD, PDF, FB2, PDB, and EPUB formats.
Most of these new 7″ ereader hybrids use similar hardware, but the hardware for this device isn't one that I've seen before. Apparently SVP is part of a larger company based in Taipei called DMI, the OEM of the EB701.
For specs, it has 2GB of flash memory and has a micro SD card slot for cards up to 16GB. The processor is a RockChip RK 2728B and the operating system is uCOS II. There's a 3.5mm headphone jack and rear-mounted speakers. The screen measures 7-inches diagonally and the technology is TFT LCD. The resolution is 800 x 480.
The dimensions for the EB701 are 220 × 155 × 13.8mm (8.6″ x 6.1″ x .54″) and it weighs 420 grams (14.8 oz). Battery life is an estimated 9-10 hours.
Supported image, audio, and video formats include MPEG4, AVI, RMVB, MP3, WMA, JPEG, and BMP. For languages it supports English, Simplified Chinese, Spanish, Italian, Portuguese, and Dutch.
There aren't any reviews to be found of the SVP ebook reader over at Amazon, or anywhere else for that matter, so there's no word on how well it works. It's priced at $139. Seems a little high without any wireless.