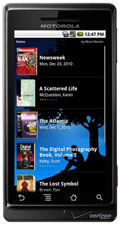 Amazon has updated their Kindle for Android app to support Kindle newspaper and magazine delivery, making it the first major ebook app to offer periodicals on the Android platform.
Android users can now choose to buy a single issue or monthly subscription of 100+ Kindle newspapers and magazines available in the Kindle Store.
Other updates include the ability to shop the Kindle store within the app instead of it opening the web browser like before, share reading progress via social networks using Google's built-in Share functionality, and zoom in closer on images and other graphics.
If you already have the Kindle app and have market access it will update automatically. Otherwise you can download the Kindle APK file from my Android Reading Apps pack.