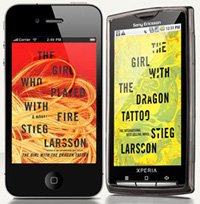 Sony finally did themselves and readers a favor by releasing an Android Reading app for downloading and reading ebooks from Sony's ebookstore.
The problem, however, is that Reader for Android requires Android 2.2 or higher, leaving a considerable number of devices out of the mix, including most Android ereaders.
If you own a compatible device, search the Android Market to download the "Reader" app.
With the Sony Reader Android app you can access purchased ebooks from Sony and shop for bestselling and new ebooks. The app syncs with the wireless Sony Daily Edition for last page read, highlights, and bookmarks.
Features include adjusting the font size and adding and editing bookmarks and highlights. The app comes with three classic ebooks and excerpts from three bestsellers.
What's interesting is that the initial report of the Android app had it pegged for Android 1.6 and higher. Why they decided to go with 2.2 is anyone's guess.