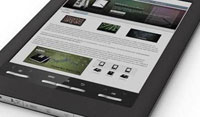 Below is a quick look at a video for a color E Ink ebook reader from an Italian company that was on display at EBook Lab Italia 2011.
The device is called the Onda MyTile 10C Pro. It has a 9.7″ capacitive touchscreen with a 800 × 600 pixel resolution and incorporates E Ink's new color Triton display technology.
For wireless, the Onda MyTile 10C Pro has WiFi, Bluetooth, and optional 3G. It supports text-to-speech, Adobe DRM, voice command for navigation, and handwritten notes. It also has an accelerometer, R-FID player, and FM radio.
One interesting point, the battery life is said to be 10,000 page-turns on a single charge, which is about the same for monochrome epaper.
There aren't any ereaders on the market yet that use E Ink's new color Triton display technology but the time is growing near; the Onda MyTile 10C Pro might be the first. It's hard to tell for sure from the translation, but it looks like it could reach the market in April or May of this year.
Hanvon was supposed to be the first company to release a color E Ink ereader in March 2011, but there's been no word on that recently. The picture at the top of this post is Hanvon's color ereader, not the Onda.
The video isn't very long but gives a promising look at a new type of color display technology that should start becoming mainstream in 2011.
Via: Netbooknews.it and Nonsoloebook