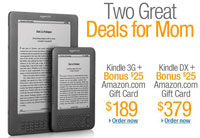 Amazon is running a Kindle Mother's Day promotion where you can get a $25 Amazon.com gift card with the purchase of a Kindle 3G or a Kindle DX.
The offer does not extend to the $139 Kindle WiFi or the new $114 Kindle with Special Offers. The offer applies to the $189 Kindle 3G and $379 Kindle DX.
The $25 gift card offer runs from 4/27/2011 to 23:59 5/8/2011 and is valid for customers of the United States.
Amazon has been running a lot of Kindle deals lately. Obviously the new $114 Kindle that just started shipping is one. They also recently ran a sale on the Kindle DX for the first time ever. Now they are giving away $25 gift cards. In the past, they never really ran sales at all on the Kindle. Last year's Mother's Day deal included free express shipping, but no gift cards.
Looking back at the past few weeks, Amazon is putting a lot of energy into the Kindle. They just updated the Android app for tablets to add a new layout and features, launched the German Kindle store, and announced that ebook lending is coming to the Kindle. What next?