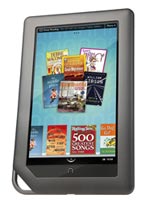 Here's a list of ebook readers and tablets that are currently on sale or that have been recently discounted, along with some refurbished items.
Additionally, Borders is running a 50% off sale
on ereader cases. They don't have a very wide selection but there are some good deals. They have quite a few Kobo covers.
Nook and Nook Color
Sony Reader
$239 – Sony Reader PRS-950 (Refurbished) at Sony.
$143 – Sony Reader PRS-350 at Sears.
$90 – Sony Reader PRS-300 at Amazon.
*The Sony PRS-650 isn't on sale, but has finally been steadily in stock for the past two weeks at Sony for $229.
Kobo WiFi
Kobo has been promoting the fact that their wireless ereader is now $99 at Best Buy and Walmart. This really isn't news because it has been selling for $99 for months from Borders
.
Kindle with Special Offers
It's not on sale exactly, but Amazon's new $114 Kindle with Special Offers is kind of a perma-sale.
Color eReaders and Tablets