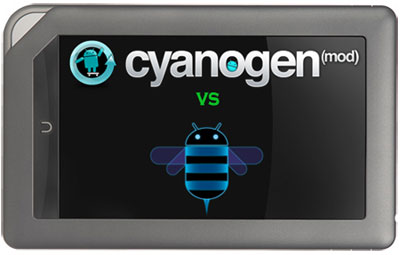 I've been getting a lot of questions lately from people trying to decide which Nook Color alternate firmware to go with, CM7 or Honeycomb.
CM7 is based on Android 2.3 Gingerbread. Honeycomb is Android 3.0, the first version of Android designed for tablets instead of smartphones. Both have their pluses and minus, but one clearly outshines the other.
First thing, you can try both to see which one you like better. If you don't want to get 2 microSD cards, just install CM7 or Honeycomb, test drive it for a little while, and then if you decide you want to try the other you can erase the memory card by reformatting it and start over with another ROM (I use SDFormatter for Windows).
From my experience, CM7 is the one to go with. Honeycomb is nice with all the widgets, streamlined interface, and on-screen nav buttons and recent apps list, but the ROM is based on the preview version of Honeycomb. It lacks features of the official Honeycomb release. Video does not work, sometimes the browser hangs, the accelerometer is iffy, and there are numerous bugs.
CM7 isn't as flashy or as fun as Honeycomb, but it is more stable and user-friendly. It runs smoother and has all the features of Android 2.3 and then some. It gets updates and improvements frequently, whereas the Honeycomb build doesn't. Until the official Honeycomb ROM for the Nook Color comes along, CM7 is the clear winner.