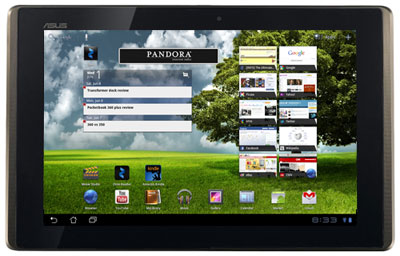 Yesterday ASUS unleashed an over-the-air update for the ASUS Transformer that upgrades the operating system to Android 3.1, providing numerous feature enhancements and bug fixes.
Since I just posted the ASUS Transformer Review yesterday, I thought it would be a good follow up to post a video review showing Android 3.1 in action on the Transformer, along with some initial thoughts on the update thus far.
The most noticeable improvement with the firmware update is the fact that everything loads much faster. Apps open faster, the app drawer is smoother, the web browser is zippier. The update also adds the ability to re-size a few of the Honeycomb widgets, and now the recent apps list is scrollable and contains up to 18 recent apps at once.
Some new apps have been added to the ASUS Transformer as well. It now comes with a Movie Editing app, the Zinio Reader app for downloading and reading magazines, and the Kindle app for ebook reading. Unfortunately the Zinio Reader app does not work, but I tried downloading the new Zinio app from the Android Market that was just added yesterday and it works fine, although a little laggy.
The ASUS MyLibrary app now has access to the Txtr ebookstore for buying ebooks. There are quite a few good titles, including NYTimes bestsellers. ASUS also made a couple of changes to the ebook app, adding the ability to share passages and create new bookshelves. The app seems to load much faster as well.
Another improvement, if you watched my video comparing the Transformer vs the Xoom, the Transformer now plays the sample video it was having problems with smoothly, but it still has problems playing 720p video online. I tested one of Google's movies from their new rental service and 720p is unwatchable. I loaded the same video on the Motorola XOOM, which also has Android 3.1, and it plays perfectly smooth. Makes no sense.
Another concern, I had hoped the update would resolve the issue that causes the Transformer to freeze up. But alas, it has already frozen up twice this morning while working on this review. As I've said before, this is all the more strange because I've never had the Motorola XOOM do that once. It has to be something with the Transformer specifically and not Android Honeycomb. Anyone else experiencing this issue?
Here's a strange observation. I tested the Transformer's quadrant score before the update and it was 1918. After the Android 3.1 update it now only scores 1509. Go figure.
Anyway, I'm going to continue to test out the new update for a few more days before updating the Asus Transformer Review page with any new information about the performance of Android 3.1 on the Transformer.
ASUS Transformer with Android 3.1