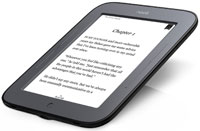 That didn't take long. The Nook Touch just started shipping a week ago and now it has already been rooted. Better yet, directions for rooting the new Nook have been posted over at Nookdevs for anyone who wants to try it out for themselves.
The rooting process requires a 128MB or larger microSD card, WiFi access, a program that can write images to a memory card, and a Windows, Mac, or Linux computer. That, and a dash of tech-savviness for good measure.
As usual, rooting the Nook Touch or any other device comes with the risk of voiding the warranty and potentially turning it into an expensive paperweight if the process somehow goes horribly awry. But the idea of being able to run Android apps on an E Ink ereader is very tempting, especially other ereading apps.
Personally, I'd love to get Aldiko and Kindle running on the Nook Touch. But I haven't tried this method of rooting just yet. Looking at the directions, my attention span wanders. I'll give it a go later when its not so nice outside :).
Please post your results if you decide to try it.