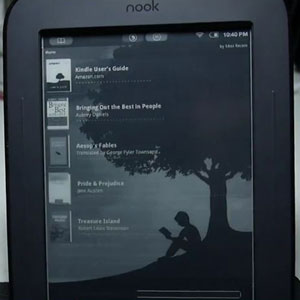 So I've been eagerly keeping my eyes on this thread over at the XDA forums for the latest progress on hacking the Nook Touch to run Android apps.
This morning there's a YouTube video posted showing the Nook Touch running the Kindle for Android app. It's not exactly 100% smooth, but it's progress.
The Kindle Android app slides pages when turning them and there's no way to turn it off (at least not on the latest version of the app) so there's kind of an awkward stutter sometimes when leafing through pages, along with the full page refresh.
Otherwise it looks like it's running fairly well. Adjusting text size works, the page slider, and home menu too. Night mode even appears to work (black background, white text). Unfortunately the video doesn't show if the on-screen functions work for the dictionary, highlights, and notes, but I'm guessing they do.
Now all we need is an easy way to install it.
Kindle Android App on Nook Touch