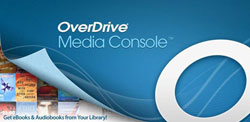 I've been experimenting with different ereading apps on the rooted Nook Touch to find out which ones work the best. Yesterday I went ahead and installed the OverDrive Android app in order to try downloading a free ebook from the library.
Of course you don't need to have the Nook rooted to read library ebooks on it, you can just add them using the old fashioned method, which requires the use of a computer with Adobe Digital Edition software to transfer the ebooks to the Nook over USB.
But I hate of USB cables. There are too many variations so you have to keep track of which ones go with each different device. I wanted to find an easier way to get library ebooks onto the Nook without using a USB cable or a computer at all. That's where the OverDrive app comes in. It lets you search and download library ebooks directly from the Nook Touch itself.
The good news is that the OverDrive app works well on the rooted Nook Touch. Once you add a library to the list, it launches the web browser to search for an ebook online, and then you can download it directly to the Nook using the web browser.
But then things get a little tricky. If the ebook has DRM, which most do, then it will ask to authorize the Nook with your Adobe ID, even if you already have done so with the Nook's built-in reading app. I chose to authorize it with Aldiko 2.0 since it supports Adobe DRM and has more layout options than the OverDrive app.
The library ebook works fine with Aldiko, however, I had intended to read it with the Nook's regular reading app, but that's where I hit a snag. There doesn't seem to be any way to get the Nook to work with a library ebook obtained using the OverDrive app; it will not open them. I tried moving the library ebook to different locations using a file manager, but that didn't work either.
It looks like the only way to read library ebooks with the built-in Nook app is to use Adobe Digital Editions to transfer them. No big deal, I guess. The Aldiko app works great, and the OverDrive app works well too, it just doesn't have a lot of features. I'm just glad I was able to find a library ebook to test this with since finding one that's not checked out has been a problem in the past.