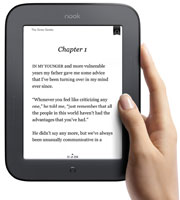 Barnes and Noble has released a firmware update for the "All-New NOOK", or is it the "Nook Simple Touch Reader", B&N's marketing department can't seem to make up their mind what to call it :). Who knows why they can't just go with something simple like "Nook Touch". Calling something "All-New" is going to become dated really fast.
Name calling aside, the firmware update, version 1.0.1, appears to be a minor one. Just bug fixes and performance enhancements. No new tantalizing features have been added. Here's what's changed according to Barnes and Noble:
Connect more easily to Wi-Fi hotspots
Improved touchscreen responsiveness
Enhanced accuracy of battery meter
Barnes and Noble will automatically push the update to Nooks this week over WiFi, and if you are the impatient sort or if you don't have WiFi, you can download the update from B&N's support page right now and sideload it onto the Nook.
All you have to do is download the update to a computer and then transfer it as is to the Nook Touch's root directory via USB. Eject the Nook and then in a few minutes when it goes to sleep it will automatically install the update on its own.
At least that's what it is supposed to do. My rooted Nook Touch doesn't seem to be recognizing the update—nothing happens. It wouldn't be surprising if they setup root to disallow updates; after all, updates can cause problems to a rooted device.
My rooted Nook Color went haywire after its first automatic update and had to be flashed back to stock to start over again—then ROMs came along and they are much better than rooting anyway. Too bad there aren't any for the Nook Touch yet.