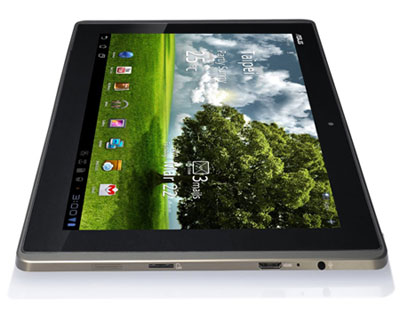 If you've seen my ASUS Transformer review, you know that I've had trouble getting a Transformer without defects. The first one I bought had excessive screen bleeding and other hardware problems, and the one I received as a replacement was even worse.
Long story short, I decided to try my luck again (after all, the keyboard dock was always sitting there on the desk staring at me). So I bought one from Amazon last week because they have a really easy return policy if something isn't right. Luckily, that doesn't matter. This Transformer is pretty much in perfect condition and I'm very happy with it.
The Transformer's best quality is its IPS screen, provided you're lucky enough to get one without defects. Images are bright and detailed, colors are very solid, not fuzzy at all, and the viewing angles are superb. Additionally, smaller text is nicely defined with the 1280 x 800 resolution display, more so than the iPad 2 for instance.
This unit does have just a little light bleed in the usual spots but is hardly noticeable even with the brightness turned all the way up. Not a problem at all. The build quality is sturdier than the other two devices as well. There's no play in the screen along the edges and it doesn't make creaky noises when handled.
Somehow the speakers on this unit are better than the first two Transformers too. The right speaker still seems a little louder than the left, but the volume is louder and the sound quality is better—there are more mid-tones. I still wouldn't call the speakers "good", but they are at least functional on this unit. Before they were all treble.
The main downside with the Transformer at this point is that the new Netflix app that works on most tablets—even the Nook Color and Pandigital Nova—doesn't work on the Transformer unless you root it and fix the issue, which can lead to other problems. Hopefully ASUS will get the issue resolved so users don't have to resort to rooting the device just to watch Netflix. In fact, ASUS did issue an update shortly after I wrote this article. Among other fixes, Neflix now works like a charm.
In the end, despite all the troubles with getting a decent unit, I would still recommend the ASUS Transformer, with the advice of getting one from somewhere that has a favorable return policy in case it has something wrong with it. If you get a good one, it is easily one of the top tablets on the market, especially if you are like me and want the option of using the keyboard dock, which makes it more of a hybrid device than just a tablet (and a lot more functional for writing this article, for instance).