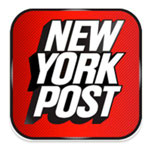 If you like reading news from the New York Post, then today is your lucky day because Amazon is giving away the New York Post Android app for free, which normally costs $1.99.
The reviews for it are absolutely horrible. It has two stars over 110 reviews. The app works fine, the reason it's getting a lot of negative reviews is because it is a paid app that has ads. A newspaper with ads? How dare they…
If you don't mind the ads, it is a decent app. It is designed for phones, but works and looks fine on the ASUS Transformer. Large pictures are somewhat fuzzy because it is meant for a smaller phone's screen, but other than that it works well.
The app's homescreen is laid out with a list of the day's top stories that include the headlines, a brief description of the article, and a thumbnail of the picture for the article. At the top of the homepage there are tabs for different sections, including the Page Six gossip section, Sports, and Photos, along with a list for all the other sections of the New York Post.
Here's the product features list:
Read the New York Post on your Android phone
Get breaking news and updated content 24 hours a day
See compelling photos including Post Pix, our App-exclusive photo gallery featuring the day's top photos
Enjoy Page Six celebrity coverage, The Best Sports in Town, and other popular sections
View stories and photos online and offline
Share articles with your friends via email, Facebook, and Twitter; save articles to Instapaper
The New York Post for Android can be downloaded from Amazon's appstore. The app requires Android 1.6 or higher to work.