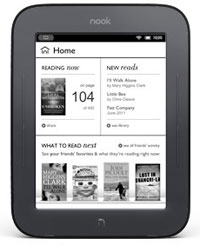 Barnes and Noble just started selling refurbished versions of the Nook Simple Touch Reader from their eBay Store for $112 with free shipping.
The Nook Touch sells new for $139, so you save an extra $27 by going with a manufacturer refurbished unit, which are regarded as being in excellent condition because each has been cleaned, repaired (if needed), and inspected before going out.
It's funny that they just happen to price it two dollars less than the cheapest Kindle 3 (not refurbished; those are $99). Too bad they couldn't find a way to slice off thirteen more dollars to make it a nice cool $99—$112 is such an strange number to settle on.
Still, $112 is a heck of a price for one of the best ebook readers on the current market—in fact, Consumer Reports does consider it the best (I agree for the most part, but other devices are better in different areas—PDF support, audio support, active content, etc).
And if you are the adventurous sort, the greatest thing about the Nook Touch is the fact that it can be rooted to run dozens of Android apps, including other ereading apps like Kindle and EZPDF Reader, plus some games and useful apps like notepads, email, RSS Readers, etc. The Nook Touch Rooting Guide reveals how to unleash the Nook's full Android potential and turn it into a quasi E Ink tablet.
Barnes and Noble also just dropped the price of the refurbished Nook Color to $179 last week, down from $199, which was initially priced at $225 when they first added it to eBay, so if that's any indication the Nook Touch should be $99 by Christmas. Also, B&N still sells their original Nooks on eBay; it's surprising they have any left. The WiFi/3G version goes for $169 new and the Wifi only version is $119 new.