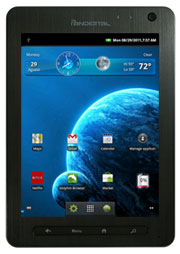 I've spent the past couple of days experimenting with rooting the Pandigital Nova and installing Google apps for Android Market access.
The good news is that I succeeded, and even put together these two tutorials: how to root the Pandigital Nova, and how to install the Android Market.
I followed various sets of directions over on SlateDroid, but there's not been very much feedback for the Nova specifically so please feel free to add your two cents in the comments section below if you decide to risk stepping beyond the disclaimers.
A few folks on the forum say that they've successfully rooted and installed the Market without any issues, but I had some problems and now my Nova's home button doesn't work (it works now; here's the fix). Everything else seems to work fine, however. I'll post a video tomorrow.