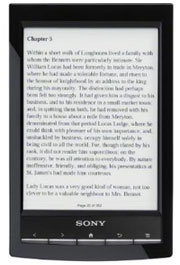 Below is yet another good video shot by Charbax, this time showing the new Sony Reader PRS-T1 at the IFA convention in Berlin.
The video gives a good look at the new user interface, which makes the Android rumors seem even more likely. Take a look some of the videos from last year's Sony Readers, and the models from the year before last. A lot has changed with the new PRS-T1 model—the home screen layout, the on-screen options for adding notes and highlights and search are different, the touchscreen functions have changed, the library view has more of a bookshelf-like layout. It stands to reason if that much has changed, the operating system has changed too.
You also get a look at the three different colors the Reader Wi-Fi comes in toward the end of the video: red, white, and black. White is a new choice, the earlier models came in silver instead. It's strange to see a white Sony Reader. Black will probably be the most popular because of the optical illusion that makes text appear darker with a black frame.
The video also shows how the pinch zooming works, which doesn't look like it is going to be very useful for ebooks, but should be nice for PDFs and images.
Unfortunately there's not much of a look at how the web browser works because the demo units aren't connected to Wi-Fi. One thing we can expect from the web browser is the ability to download ebooks, a nice change because the PRS-950's browser cannot download files at all. This fact is based on this quote from Sony's European press release: "A simple browser also lets you download other compatible5 documents from the web via Wi-Fi for easy reading while you're on the move." 5 refers to a footnote: Unencrypted ePub and PDF files.
In an earlier post about the Reader Wi-Fi, I mentioned that Sony would be offering 6 font choices on this model, and they confirmed that in the US press release, along with other customizing options:
Reader Wi-Fi offers users numerous options for customization. Users can view collections of digital photos on-screen, plug-in headphones to listen to stored music while reading, or change the image on the front cover to the current title or to a favorite photo as a screensaver when your Reader Wi-Fi is in standby mode. Users can also personalize the reading experience by choosing from eight font sizes and a choice of six font styles. Screen contrast and brightness are easily adjusted for comfortable viewing in any lighting condition.
A Closer Look at the Sony Reader Wi-Fi