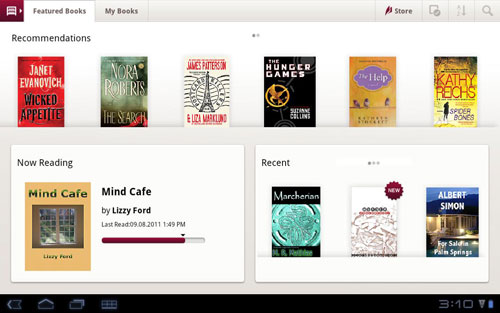 Sony recently released a new tablet-specific Reader app for Android, and it comes just in time for the new Sony Tablet S, which just happens to be getting released tomorrow.
This new Reader for Android Tablet app will only work on the Sony Tablet S, in fact. But worry not Android tablet owners. According to Sony, the Reader Tablet app will be available for all other Android tablets in early December.
Until then, everyone but Sony Tablet owners is going to be stuck with the crummy old Sony Reader phone app that was released back in January and has yet to receive a single update.
Anyway, the Reader Tablet app looks a lot like the new desktop software for PC and Mac, with the book cover home view, the tabs, and 2 page layout.
The most surprising feature is the fact that it allows for side-loading EPUB and PDF files, although it doesn't specify if they can have DRM. Other features include adding bookmarks and highlights, adjusting font size and screen brightness, animated page turns, and selecting between one or two page view. The app also syncs highlights, bookmarks, and last page read with the new Reader Wi-Fi and Sony Daily Edition.
There are actually three variations of the new Reader app available from the Android Market, one for English, Chinese, and Japanese.
Sony Tablet S owners get a free ebook for downloading and installing the new Reader Tablet app for Android and authorizing it with the Sony ebook store between September 16th and October 16th. Sony will then send an email with a code to download your choice of one of the following six featured ebooks:
John Lennon by John Borack
How Fantasy Sports Explains the World by A.J. Mass
The Art of War for Zombies by Rene J. Smith and Virginia Reynolds
Thunder Dog by Michael Hingson
Someday This Will Be Funny by Lynne Tillman
Where Eagles Dare and Bear Island by Alistair MacLean (2 title bundle
Even though the Reader Tablet app is being shunned from non-Sony tablets for the time being, it's good to see that Sony is incorporating their ebooks into the new Sony tablets, and that Sony is continuing to expand their ebook influence.
If everything goes to plan, by Christmas Sony will have released a new ebook reader to multiple countries, released a new tablet-oriented Android app for their own tablets and other Android tablets in general, and expanded their ebook store to the United Kingdom, Germany, and Austria. That's a pretty good way to finish off the year.