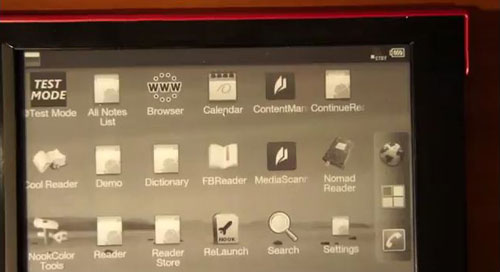 That didn't take long. The Sony Reader PRS-T1 has been out less than two weeks and it's already been rooted.
The video below is evidence of a rooted PRS-T1. It's still in its early stages so its not exactly running smoothly, and there aren't any directions or details, but it's a good sign of things to come.
The video shows the PRS-T1 running ADW Launcher and the Cool Reader app. Speaking of Cool Reader, I wonder if the Cool Reader app that was tailor-made for the Nook Touch that supports partial page refresh will work on the PRS-T1 with partial refresh.
Unfortunately the video doesn't really show any other apps, just a failed attempt to launch Angry Birds. What's with the obsession with Angry Birds, anyway? The first rooted Nook Touch video that surfaced was an attempt to get Angry Birds to play too.
Regardless, it's good to see that the Sony PRS-T1 has already been rooted. A few more weeks and there will probably be a stable version for everyone to experiment with. I'll post a PRS-T1 rooting guide once that happens. Subscribe to keep updated.