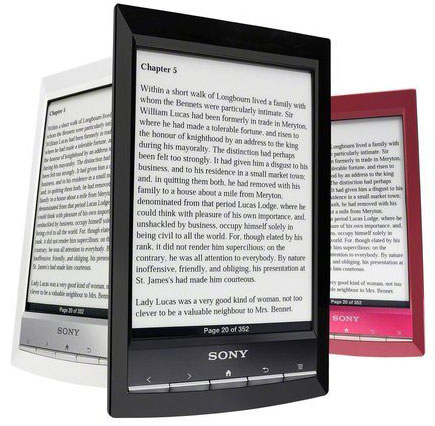 The Sony Reader PRS-T1 is my top pick for an ebook reader this holiday season under $100.
When it was first released, the Sony PRS-T1 sold for $149. Then Sony dropped the price to $129, and now it is on sale until December 24th for just $99 with free shipping. A thirty three percent price drop in two months. Not bad.
Barnes and Noble recently dropped the price of the Nook Touch to $99 as well. And if you've seen my Best eBook Readers post, you'll find it sitting at the top.
But that was when the Sony Reader Wi-Fi sold for $149. Now that it is down to $99, the Sony wins over the Nook because it offers a lot more features for the price. It has a web browser, on-screen notes, better PDF support, twelve dictionaries, a drawing app and memo app, it supports audio, can download ebooks from libraries, and more.
The Nook Touch is nice ereader but it is rather basic unless rooted to run Android apps. Then it is a contender, but most people aren't going to go through the trouble.
The Sony PRS-T1 can be rooted to run Android apps too. It can even install the Kindle for Android app to get ebooks from Amazon. Not sure if the Nook app works; I never tried it.
Nook Touch vs Sony PRS-T1 Comparison Review »
Aside from the Nook, the other major competitors to the PRS-T1 in that price range are the $99 Kindle Touch and $79 Kindle 4. Both Kindles are really nice and offer a good amount of features—I tend to like the Kindle 4 a little better—but both come with advertisements at those prices. The non-ad models cost $40 and $30 more respectively. Same goes for the $99 Kobo Touch.
If you don't mind the ads (most people don't), then it is a different ballgame. I'll be posting a comparison review between the Sony and Kindles in a couple of days to outline the advantages and disadvantages of each.
Make sure to check out my review of the Sony PRS-T1 for more information about it before buying.
Where to Buy the Sony PRS-T1
I have no idea how many Reader Wi-Fi's Sony has on hand for the holiday season, but with the price being so low, I expect Sony and most retailers to sell out of the Sony PRS-T1 before Christmas. So here are links to a bunch of places that sell the Sony PRS-T1 for when they start to become hard to find. Sony is the most reliable for the $99 price; other sites are fluctuating.
Adorama.com