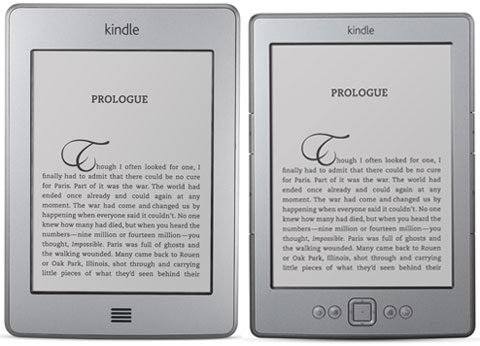 The Kindle Touch and Kindle 4 are Amazon's latest generation Kindle ebook readers. This comparison review aims to outline the similarities and differences between the two.
Both devices are a lot alike and yet very different. Each one offers something the other does not, more so with the Kindle Touch. From an ereading perspective, they are pretty much identical twins.
Here are the links to the individual reviews for more details on each device specifically:
Kindle Touch vs Kindle 4 Video Review
Kindle Touch vs Kindle 4: Similar Features
6-inch E Ink Pearl screen.
The menus and header are different on the Kindle Touch, but the user interface between the two is pretty much the same.
Both share the same color and design characteristics.
Same selection of ebooks and periodicals from Amazon, obviously.
Same exact text options: font sizes, font types, line spacing, margins, partial page refresh, darken contrast for PDFs.
Most of the ebook reading features are the same: notes, highlights, bookmarks, go to page, syncing, dictionary, view book description.
Both are cheaper with Special Offers (ads).
Share passages and notes on Facebook and Twitter.
Can download DRM-free ebooks and free ebooks with the web browser from non-Amazon sites.
With the exception of wider spacing and darker fonts on the Kindle Touch, the homescreens are the same, with the same sorting options, collections, archived items list, etc.
Both have limited access to Kindle Active Content and Kindle Apps.
Kindle Touch Advantages
More memory: 4GB vs 2GB.
Better battery life: 2 months vs 1 month (according to Amazon).
Headphone jack and built in speakers.
Text-to-speech.
Supports audiobooks from Audible.
Plays MP3 files.
Touchscreen navigation is more intuitive.
Kindle Touch 3G for 3G wireless.
X-Ray feature shows passages across a book that mention common ideas, characters, historical figures, and specific places or topics, and then offers descriptions about them from Wikipedia and Shelfari.
On screen keyboard is much faster to use.
Games and Active Content are more suited for a touchscreen.
Pinch zooming for PDFs and web browser.
Creates table of contents for PDF files.
Unlike earlier Kindles, web browser can open windows that trigger new windows.
Browse ebooks by book cover in Kindle Store.
Kindle 4 Advantages
Page buttons on each side of screen.
Thinner and lighter than Kindle Touch.
Loads and turns pages slightly faster.
Landscape mode (surprisingly the Kindle Touch doesn't have landscape mode at all).
More zooming pre-sets plus landscape mode for PDF files.
Multiple language support: English, German, Spanish, French, Italian, and Portuguese.
Foreign language dictionaries.
Library list shows more titles at once.
Less ghosting than Kindle Touch.
Can search words in ebooks on Wikipedia and Google.
Cheaper price.
Kindle Touch vs Kindle 4 Conclusion
When comparing the Kindle Touch with the Kindle 4, it basically comes down to which features are the most important to you. The price and functionality of both devices is so close that it's the little details that separate them.
The Kindle Touch is more advanced with the touchscreen and support for audio files, but the Kindle 4's interface feels a little more polished and zippier, and the physical page buttons are nice to have as well.
Personally, I tend to favor the Kindle 4 a little more, but the more I use the Kindle Touch the more it grows on me.