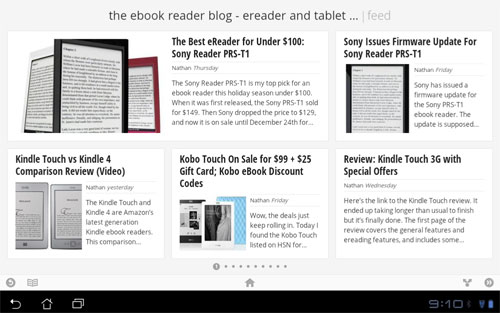 Earlier in the week Google introduced a new news reading app called Google Currents. The app works with Android phones and tablets, as well as the Apple iPad and iPhone.
Google Currents is a free app, as are the 180+ subscriptions that it offers from Google's publishing partners. The Google Currents app is also setup so that you can add Google Reader subscriptions and add RSS feeds for videos and photos and Google+ streams too.
The articles get formatted into the Google Currents editions and get saved locally so that you can read everything offline. The articles contain no ads whatsoever. Good for readers, bad for publishers.
I've tested the app briefly and so far it's looking pretty good. It looks like other news apps such as Zite and Pulse, and what's nice about it is that there over 180 subscriptions available in the library ready to add to your subscriptions list, along with Google Reader feeds.
The articles are presented in a layout optimized for tablets and smartphones. The homescreen shows your list of subscriptions along with a slideshow of images from new articles and there's also a section for trending news. There aren't a lot of features or settings. You can adjust font size, share articles, and specify how often to sync. Hyperlinks work, and you can view the articles in a list TOC-style.
Google Currents is available in Android Market and the Apple App Store. Apparently it is for US users only at this point.
Google Currents Video Demo