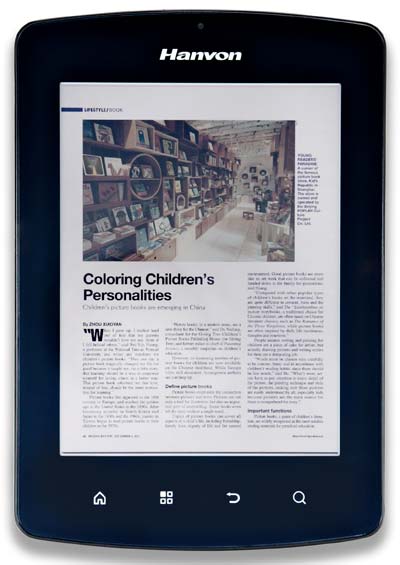 The Hanvon C-18 is among three new ereaders shown at CES this year with Mirasol displays. Mirasol displays are an alternate type of color screen technology that has been rumored to be used on ereader products for a couple of years and is just now starting to show up in commercial products.
Unfortunately none are being marketed in the United States yet; the Hanvon C-18 will hit the Chinese market in February. Nevertheless, the C-18 offers a glimpse at the future of ereaders with its energy-efficient, color screen that is viewable in direct sunlight and can get up to 3 weeks of use on a single charge, similar to E Ink displays.
The Hanvon C-18 looks like an ereader but it is closer to a tablet—the screen tech still isn't on par with LCD for video and color so marketing it as an ereader is probably a safer bet for Hanvon at this point.
The device is powered by a Qualcomm 1.0 GHz Snapdragon S2 class processor and runs a custom version of Android 2.3. Its Mirasol screen measures 5.7" diagonally with 1024 × 768 pixels and a resolution of 223 ppi.
There's no word yet on price, or if it will ever hit US shores. The press release doesn't give a lot of details but it does mention that the device features Hanvon's patented handwriting recognition technology—that sounds pretty interesting. A couple of things the press release does offer is this nifty gallery widget and a promotional video…
Hanvon C-18 Photo Gallery
Hanvon's C-18 Commercial
This video is strange and doesn't really show anything about the C-18 but it's one of the more interesting ereader ads I've seen and is kind of funny.
Engadget's Hanvon C-18 Video at CES