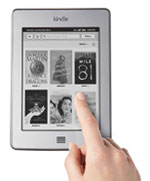 There's a new firmware update available from Amazon for the Kindle Touch. I just installed it and haven't noticed any improvements or changes whatsoever. Maybe page turns are a little faster—it's hard to tell.
The only real difference I can find is that it kills the landscape mode trick I posted about the other day. Instead of showing buttons for rotating the screen, it just shows the code for the buttons instead. This probably means the update breaks other Kindle Touch hacks as well.
The firmware on my Kindle Touch was 5.0.0 before the update. To check the firmware version, tap the menu button from the homescreen, then settings, then menu again, and select "device info". I haven't heard of Amazon issuing any other updates for the Touch. It's strange that the number would jump to 5.0.3.
Another oddity, Amazon usually states what the update fixes, and they usually push the updates to Kindles automatically over WiFi. Amazon gives no mention of what this update does, and the update page doesn't mention anything about being pushed to WiFi, just that it is available for manual download.
How to Install the Firmware Update
Download the 5.0.3 firmware update from Amazon to your computer.
Plug your Kindle Touch into your computer and drag the update file as is onto the root of the Kindle Touch drive. Safely disconnect your Kindle.
From the Kindle Touch's homescreen, tap menu, settings, menu again, then Update Your Kindle!