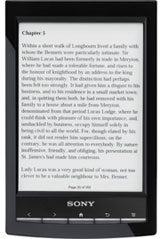 The Amazon Kindle is no longer the only major E Ink ereader to have text-to-speech. The Sony Reader PRS-T1 is now capable of offering TTS as well, but there are a couple of catches, 1) the PRS-T1 has to be rooted and 2) text-to-speech will only work with DRM-free ebooks.
The minimal rooting package for the PRS-T1 comes pre-loaded with two ereading apps that have TTS capabilities built-in, FBReader and Cool Reader. All you have to do is download the TTS data package to enable text-to-speech on the Sony PRS-T1.
One way to get TTS up and running on your PRS-T1 is to install the Android Market—all that is required is installing two apps—and then you can quickly access the required TTS data files from there automatically after the first time launching TTS.
Otherwise you'll need to download this PicoTTS data package and then extract it to the root of the PRS-T1, the internal sdcard.
Once the data package is setup, text-to-speech will work with Cool Reader. Just open any ebook and hit the menu button, then tap More, and then Read Aloud.
To use TTS with FBReader, you first need to install the FBReader TTS plugin app. If you don't have the Android Market setup, you can download the apk here from the FBReader website. Once that is installed, a "Speak" option is added to the More list from the menu.
TTS works about the same with both apps. Cool Reader has options for adjusting the speed of the voice and the volume. Cool Reader will also continue to run in the background so if you close the app without stopping the TTS it will continue to read aloud while opening other apps and doing other things.
Overall, TTS works pretty well on the PRS-T1. The voice is kind of roboty (that's a new a word I'm coining) but it's not too bad. There are probably other TTS voices that can be installed but I haven't tried any. If you want to hear a sample of what TTS sounds like on the PRS-T1, there's a demo at about the 2:58 mark on the video from this earlier post.