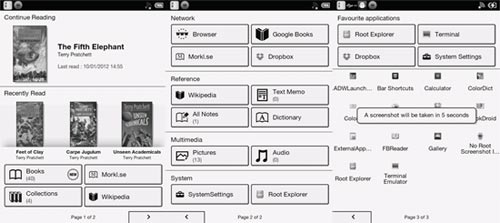 If you saw the video I posted the other day showing the partial refresh trick on the Sony PRS-T1, you probably noticed the modified homescreen on my PRS-T1 that looks just like the regular homescreen but adds some nifty new features.
The new homescreen has three pages instead of two. The third page is an app drawer that list the Android apps installed on the PRS-T1. The second page consists of shortcuts to certain apps and the first page lists recently read titles instead of the default recently added.
You can also set which ereader app you want to open the books by default and if you know coding you can even modify the XML file to your liking to change the homescreens even more.
Here's how to install the modified homescreen on your rooted PRS-T1 (it has to be rooted for this to work):
Download the latest homemod package from MobileRead and unzip the file.
Place the homemod folder on the root of the PRS-T1, the internal sdcard.
Install the EbookHomeMod.apk that's in the homemod folder.
After installing the new homescreen you can set it as the default after pressing the home button and checking the box. To clear it as the default, uninstall the EbookHomeMod.apk or go to Android Settings > Applications > Manage Applications > Home > Clear Defaults.
This is the second altered homescreen for the PRS-T1 that I've posted about. The other alternate homescreen is a completely new homescreen whereas this one is a modified version of the original.