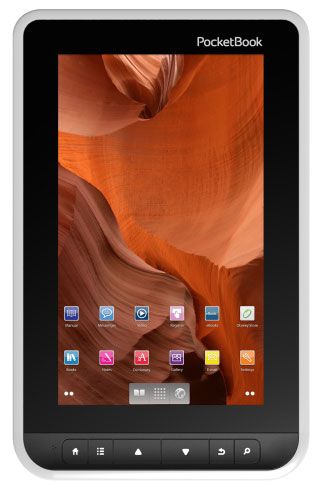 PocketBook International recently introduced a new tablet called the PocketBook A 7″, which is essentially a smaller version of the PocketBook A10 that was shown at IFA back in early September.
As the name implies, the new PocketBook tablet has a 7″ screen. In fact, it has the same screen size and resolution as the Kindle Fire and Nook Tablet, but with a TFT screen instead.
The PocketBook A 7″ runs a newer version of Gingerbread (Android 2.3.7) with some tweaks added by PocketBook. It comes with PocketBook's ereading app for Adobe DRM support as well as support for several other ebook formats. It also comes with 47 ABBYY Lingvo dictionaries, a collection of 100 pre-installed classic ebooks, and supports text-to-speech in multiple languages.
According to the press release, the outer casing is made of white plastic and the back has a soft touch coating. One thing that makes the PocketBook A 7″ unique is it has some added hardware buttons for turning pages. The buttons are also backlit.
PocketBook A 7″ Tablet Specs
7″ TFT display with 1024 x 600 resolution and 262,000 colors.
Capacitive touchscreen.
Runs Android 2.3.7.
1 Ghz TI3621 processor (single core).
512 MB RAM.
4GB storage (2GB available).
MicroSD cards up to 32GB.
Micro USB port.
Speaker, headphone jack, microphone.
Accelerometer.
2MP front facing camera.
Wi-Fi 802.11 (b/g/n).
Text-to-speech.
Battery life: 6.5 hours average, 6 hours video playback.
Supported formats: EPUB (ADOBE DRM), PDF (ADOBE DRM), EPUB, PDF, FB2, TXT, DJVU, RTF, HTML, DOC, DOCX, JPEG, BMP, PNG, MP3, WAV, AVI, MKV, MP4.
Dimensions: 207 x 131 x 14 mm
Weight: 410 grams (14.5 ounces)
The PocketBook A 7″ comes with some pre-installed apps, including Office Suite Pro v.5, CoolReader, Dolphin HD browser, Adobe Flash, a HomeWork application for teachers and students, and apparently the Android Market (it mentions "Android Market" more than once in the press release but that seems kind of far-fetched; it's probably a misinterpretation of the translation).
There's no word yet on a release date or price (it's rather strange to announce a device without giving either). The PocketBook A10 that was shown off back in September still isn't available either, at least not in the US, although a student from Eastern High School left a comment last week about their school being the first in North America to have students test the PocketBook A10 for education purposes as a textbook replacement.