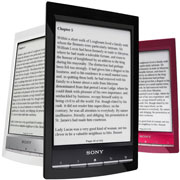 Sony has issued another firmware update for the Sony PRS-T1 that enhances performance and addresses an issue that some folks have when turning pages using the touchscreen and having it mysteriously activate the dictionary instead.
This update is the second in the past two months. In the past Sony was notorious for seldom releasing firmware updates for their ebook readers; it's good to see the PRS-T1 getting more attention.
Here are the improvements Sony lists for the new 1.0.04.12210 firmware:
Resolves an issue where using a very short page flick to turn a page may accidentally select words and start the dictionary lookup
Improves touch panel functionality
Improves stability when searching the dictionary
Improves Internet connectivity
Improves Digital Rights Management (DRM) contents compatibility
Resolves an issue where the Reader is unable to download some e-book files
I haven't installed the update on my PRS-T1 and probably won't. If you follow this blog you know that my PRS-T1 is rooted and has the Android Market and other tweaks. As a general rule, firmware updates and rooted devices don't mix. I haven't had any problems with the page-turn issue so I'm not going to take the chance.
To install the new update, just plug your PRS-T1 into your computer and the Sony desktop software should say there is a new firmware update available. If not, hit the help button and then "check for updates".
If you don't have or want the Sony desktop software, you can download update installer packages from Sony support. Here are the links to the Windows version and the Mac version.