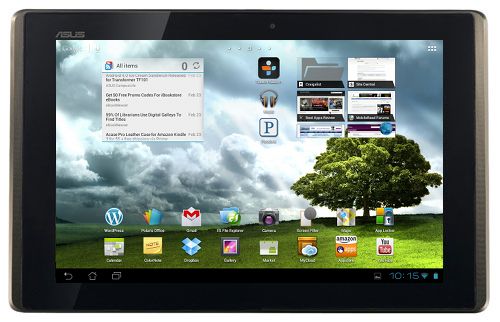 Asus started rolling out the official Android 4.0 Ice Cream Sandwich update for the original Asus Transformer tablet yesterday in Taiwan and the US and other countries today.
First thing this morning I went into settings to check for the update and it immediately started downloading. So I've been testing out the new ICS operating system all day and decided to put together a video review and a quick article describing some of the new features.
So far I'm impressed with the update. The new operating system is noticeably faster and adds some cool new features. ICS already feels more polished than Honeycomb ever did. I have noticed a bug, though, that makes wallpapers flicker oddly on the left side of the screen occasionally, especially when opening the recent apps list or quick settings menu.
Below is a list of some of the most noticeable changes with Android 4.0 on the Asus Transformer. I'd suggest reading this Wikipedia article for the complete list of changes for Android 4.0 overall.
If you haven't gotten the update on your Transformer yet, you can manually check for it by going to Settings > About tablet > System Firmware Update > Check Update.
The Asus Transformer and ICS
Speed: The first thing that jumps out about Android 4.0 on the Transformer is how much faster transitions are on the homescreen and in the app drawer, which now contains all the widgets as well. Operation feels zippier overall. The web browser is faster too, and scrolling and zooming is smoother.
Web Browser: Speaking of the web browser, in addition to the performance enhancements, copying and pasting is much improved, with a magnifying window that pops up. You can also now easy switch between desktop and mobile modes, as well as save pages for viewing offline.
Folders: A cool new feature with ICS is that you can drag apps together on the homescreen to create folders on the fly.
Photos and Videos: The camera app has some new features—you can zoom in while shooting videos, and there's new time lapse and panorama modes—and the gallery app now has a built-in photo editor. Additionally, the camera can now be accessed directly from the lockscreen.
Swiping: You now swipe across notifications with a finger to close them, which works better than tapping the corner like before. You can do the same thing to close apps from the recent apps list.
Wallpapers: There are some new wallpapers available with Android 4.0 on the Transformer, including a couple of live wallpapers that change from day to night automatically with the time of day.
Settings: Both the settings menu and quick settings menu have a new layout so that everything is more organized. There's even a new setting to change the default font size.
Video Review: Asus Transformer with Android 4.0