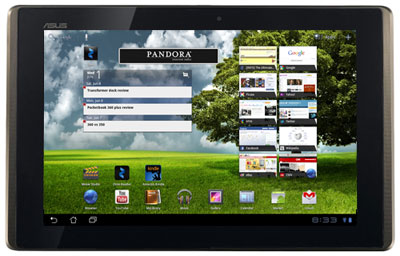 Last week Asus released a much-anticipated firmware update for the original Asus Transformer tablet that upgraded the operating system from Android 3.2 Honeycomb to Android 4.0 Ice Cream Sandwich.
Right after the update I posted a video review showing the changes, and at first everything seemed well and good, but now my Transformer has been having all kinds of problems since the ICS update. I'm ready to get rid of it and move onto something else if Asus doesn't roll out a fix in the next couple of weeks.
What was once my favorite tablet hands-down now freezes up regularly, reboots for no reason, and sometimes gets stuck in a loop trying to boot, just showing the initial boot logo over and over and over, turning itself on and off. Battery life is very inconsistent too. One night it drains 40% overnight when left in standby, the next night only like 5%.
The stupid web browser still crashes all the time and I hate how they removed the user agent option so now mobile sites load all the time. Sure you can click the new "request desktop site" button but you have to do it every damn time because it doesn't remember. What's frustrating is that I have other tablets running ICS—the Kindle Fire and Ainol Novo 7 Paladin—and they still have the user agent option in settings. I don't see the point in forcing a 10″ tablet without 3G wireless to use a mobile site. It's stupid.
Other issues include massive slowdowns and general unresponsiveness, the homescreen flickers whenever the quick settings menu or recent apps list is opened, sometimes it takes Wi-Fi over 30 seconds to connect out of sleep mode (with Honeycomb it never took more than 5 seconds), and fullscreen flash video in the browser is not working well at all. It basically crashes the browser every time, or makes it slow and unresponsive so that you have to go into app settings and force stop the browser.
Anyone else having these problems? My Transformer was never rooted or modded in any way. Just pure stock. Maybe I should root it and flash a custom ROM. That would probably fix most these issues.
Another thing that really irritates me, and this has nothing to do with Asus but Android tablets in general, is the fact that Google forces us to use their stupid apps. I don't use half their pre-installed apps and want nothing to do with them but since they are system apps you can't remove them or even hide them. The only way to get rid of them is to root the device, which is wonderfully ironic considering most people root their tablets so they can add Google apps.