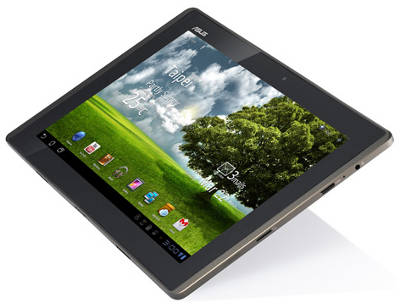 Excellent news for Transformer-wielding tablet owners that have had problems since the recent Android 4.0 Ice Cream Sandwich update, Asus has started rolling out another firmware update that will hopefully kill the ICS bugs dead.
Some Asus Transformer owners, myself included, have experienced a number of problems since the ICS upgrade, including random reboots, freezing up, battery drain, Wi-Fi connectivity issues, and problems with the tablet secretly taking control of government satellites while in sleep mode (okay so that last one didn't happen…yet).
You may need to manually check your Transformer for the update because mine didn't notify me that one was available; I just happened to go to settings > about tablet > system firmware update > check for update and it said new firmware was available and started downloading.
It's too early to tell if the update fixes the bugs, especially since they seem to come and go.
Since posting about all the problems with my Transformer last week, I removed a bunch of apps I didn't use anymore, disabled the apps I couldn't remove and didn't want, and got rid of a rogue widget that was causing trouble. The tablet runs better now but still gets stuck in a rebooting cycle and freezes up every other day or so. This usually happens in sleep mode so it's hard to catch, and can drain the battery completely if gone unnoticed.
If the update fixes that, I'll be happy. Otherwise it has been running much better lately. Except yesterday when it informed me the UI had stopped working. The notifications bar disappeared, so did the wallpaper and on-screen buttons. The apps floated and the app drawer expanded all big. That was strange…