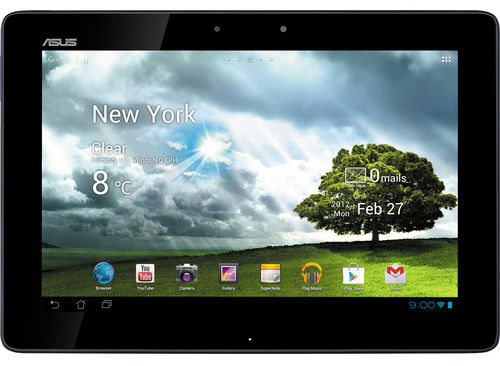 Asus has managed to make the Transformer brand one of the top names among Android tablets, and now they've got a new model, the Asus Transformer TF300.
Unfortunately it's not the rumored 7″ model for under $250 that everyone has been waiting for, but it's still an interesting tablet nonetheless.
The Transformer TF300 is an upgraded version of the original Asus Transformer TF101; it's not an upgraded version of the Transformer Prime, Asus's premium tablet—that will be updated with the Transformer Infinity later this year.
The Asus Transformer TF300 has a 10″ 1280 x 800 IPS display, a 1.2GHz Tegra 3 quad-core processor, 1GB of RAM, Wi-Fi, Bluetooth 3.0, micro HDMI port, microSD card slot, 10 hour battery life, headphone jack, SonicMaster stereo speakers, and two built-in cameras—1.2MP front and 8MP rear.
According to preliminary reports, there will be a 16GB model for $379, but it isn't listed for sale anywhere yet. The 32GB model is listed on a number of websites for $399, including Amazon and B&H.
Like its Transformer brethren, the TF300 has the option for a keyboard dock accessory, which has a full QWERTY keyboard, a multi-touch touchpad, two full-size USB ports, SD card reader, and adds 5 hours of battery life.
The Transformer TF300 runs Android 4.0 Ice Cream Sandwich and comes with Adobe Flash and Google apps pre-installed, as well as Asus's suite of included apps—Polaris Office, SuperNote, ASUS Launcher, ASUS WebStorage, MyLibrary, MyNet, MyCloud, File Manager, ASUS Sync, App Locker, App Backup, MyBackup, and others.
I'm tempted to get rid my original Transformer and upgrade to the TF300, but I don't know. Not much has changed, really. The new design of the TF300 is the biggest change, and it has a better rear camera and a better processor, a 1.2GHz quad-core Tegra 3 versus the TF101's 1.0GHz dual-core Tegra 2 processor. The screen is the same, the operating system is the same. The general functionality is the same. Think I might wait for the Transformer Infinity instead.