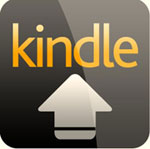 Earlier in the week Amazon released a program for Mac computers called Send to Kindle for Mac that allows users to easily send personal documents and DRM-free ebooks to Kindle ereaders and apps and the Kindle cloud archive from Mac computers.
This is a followup to the Send to Kindle for PC that was released back in January for PC computers.
Both programs essentially offer an alternative to the old method of having to send personal documents and ebooks via email to your Kindle.
You can choose to send the documents and ebooks to a specific Kindle device, as well as the Kindle for Android and iPad/iPhone apps. Or you can just select to archive them in your personal Kindle library, where they can be downloaded to any Kindle device or app at any time.
One of the cool features with this is that Whispersync works for these uploaded files (except PDFs), syncing notes, highlights, bookmarks, and last page read just like any regular Kindle book.