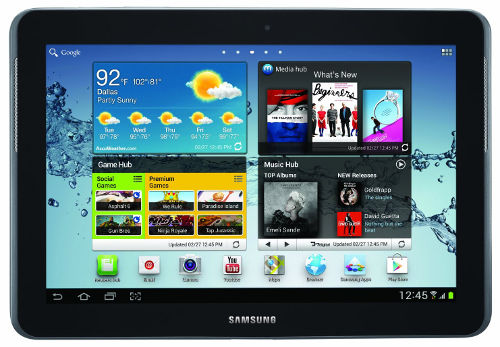 Later this week Samsung is going to release a new 10-inch Android tablet, dubbed the Galaxy Tab 2, a somewhat confusing moniker to pair with their other new 7″ tablet also called the Galaxy Tab 2.
Both show a new direction for Samsung's tablets. The focus seems to be mainly on lowering the price. The 7″ Galaxy Tab 2 is a downgrade from the previous model in some ways and the 10″ Galaxy Tab 2 has pretty much the exact same specs as last year's model.
Aside from the slight cosmetic changes, the only "upgrades" are the addition of a microSD card slot and the Android 4.0 operating system (apparently Samsung still hasn't updated the original to Ice Cream Sandwich).
The Galaxy Tab 2 has a 10″ 1280 x 800 resolution multitouch screen with 720p HD support. It is powered by a dual-core 1GHz Tegra 2 processor, it has 1GB RAM, 16GB of storage space, and a microSD card slot for cards up to 32GB.
It has WiFi, Bluetooth 3.0, front-facing stereo speakers (that's a nice touch), headphone jack, 1 USB 2.0 (host), and front and rear cameras.
Additionally, the Galaxy Tab 2 comes with Samsung's suite apps, as well as Kindle, Netflix, Polaris Office, and Dropbox pre-installed. Dropbox comes with 50GB of free storage space for 1 year.
So why would anyone buy the 10″ Galaxy Tab 2, you ask? I don't know. I wouldn't. I had planned on buying the 10″ Galaxy Tab 2 because I have yet to review any of Samsung's tablets, and since they are among the best, I thought now would be a good time. I had it in my cart at Amazon and was just about to hit the "place order" button when I decided to review the specs first.
That was a good idea because there's no way I'm paying $400 for a tablet with last year's specs and no HDMI port. What is Samsung thinking?
The new Asus Transformer TF300 is a much better value at the same price with its quad-core processor, mini HDMI port, IPS display, and optional keyboard dock. Plus it comes with double the storage space (16GB vs 32GB) and a better rear-facing camera (3MP vs 8MP).
Nonetheless, for those that want to get the new 10″ Galaxy Tab 2, it is up for pre-order from several retailers for $399, including Amazon. The release date is set for May 13th.
Personally, I think I'll wait for the Galaxy Note 10.1. But then again that could be mighty expensive. The 7″ Galaxy Tab 2 for $249 is tempting…