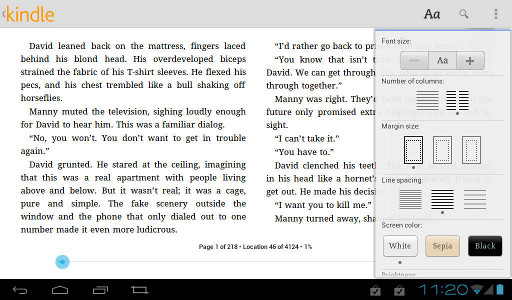 Amazon issued some updates for their reading apps this past week.
They added some much-needed new features to the Kindle for Android app, and they also updated the Kindle for iPad app as well as the Kindle Cloud Reader, their web browser based app.
As the picture at the top of this post illustrates, the Kindle Android app finally got two-page landscape mode for tablets, plus options for customizing line spacing and margin size. They also added a new left-justified option to help improve readability on smaller screens.
This update was a long time coming. Most reading apps have two-page landscape mode, and it's about time Amazon caught up. The lines were previously too long to comfortably read before on large-screen tablets, and sometimes the margins were way too large.
As for the iPad and Cloud Reader apps, their updates bring support for children's books, comics, and graphic novels that use Amazon's new KF8 format that they launched with the Kindle Fire last year for advanced layout books with lots of images, fixed layouts, and nifty features like text pop-ups for magnifying text and Kindle Panel View for reading comics and graphic novels.
Some examples of children's books with these features include Olivia by Ian Falconer and Freight Train by Donald Crews.
Amazon states they have over 1,000 of these advanced-format titles that will now work on the iPad and Kindle Cloud Reader.
Links
Kindle for Android: Amazon – Google