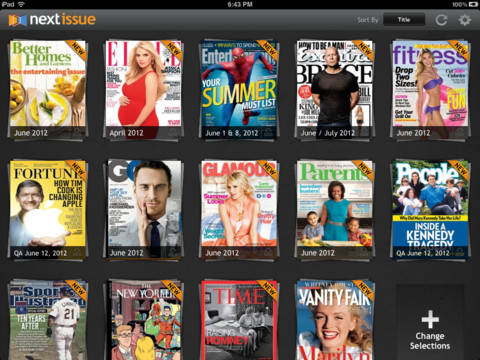 Next Issue, a joint venture formed by five US publishers—Condé Nast, Hearst, Meredith, News Corp. and Time Inc.—has just launched the Next Issue app for getting magazine subscriptions on the Apple iPad.
The unique thing about Next Issues's approach is you can either subscribe to a single issue of a magazine or pay a monthly fee to get unlimited access to all of their publications at once.
The basic unlimited plan costs $9.99 per month and grants access to all their monthly and bi-weekly magazines. The premium $14.99 plan includes additional weekly magazines and back issues.
Here's a list of the current titles that Next Issue offers; more titles are expected to be added soon:
Today, the Next Issue Unlimited Basic catalog includes: All You, Allure, Better Homes and Gardens, Bon Appétit, Brides, Car and Driver, Coastal Living, Condé Nast Traveler, Cooking Light, ELLE, Esquire, Essence, Fitness, Fortune, Glamour, Golf, Golf Digest, GQ, Health, InStyle, Money, Parents, People en Español, People StyleWatch, Popular Mechanics, Real Simple, Self, Southern Living, Sports Illustrated Kids, Sunset, This Old House, Vanity Fair, Vogue and Wired.

The Next Issue Unlimited Premium catalog includes those in Unlimited Basic plus all weekly titles such as Entertainment Weekly, People, Sports Illustrated, The New Yorker and TIME.
Next Issue offers a free 30 day trial to get started, and you have to sign up on Next Issue's website.
Their digital magazines are custom-designed for tablets and some include enhanced features not included in the print editions such as videos, bonus photography, and interactive features.
The Next Issue app is available for download from the iTunes store. They also have an app for Android and offer the same content and pricing plans for it.
Next Issue Video Promo