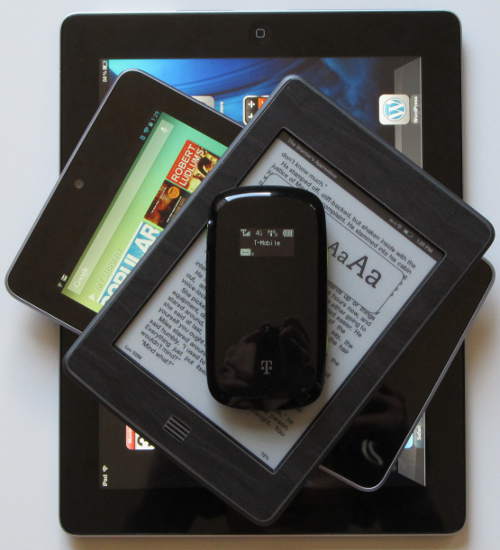 Overview
Two months ago I decided to go ahead and buy a T-Mobile 4G mobile hotspots because I was tired of having to hunt down open WiFi networks whenever I was away from the house and needed to access the internet. Plus I was never too keen on the idea of how insecure public networks can be.
For those of you wondering what a mobile hotspot is exactly, it's a small device that basically looks like a cellphone but doesn't have a speaker or mic or anything for making calls. Instead it lets you connect up to 5 WiFi devices at once—tablets, ereaders, laptops, etc—to the internet from anywhere the wireless service provider offers service.
There a number of mobile hotspots available from various providers. After researching prices and coverage, I decided T-Mobile would be the best option to go with in my area. They recently introduced some new no-contract plans that aren't too bad (which turned out to be even better than advertised) and they offer 4G, which is a lot faster than 3G.
Plans
As mentioned in an earlier post, T-Mobile made the process of acquiring one of their mobile hotspots an unpleasant experience, but given the fact their new monthly no-contract data plans are more favorable than anywhere else, I persevered and ended up getting one from a local WalMart for $115—which turned out to be the best place to buy it from.
I have no way of confirming this because it is not advertised anywhere and I can't get a straight answer from T-Mobile's customer support, but it seems that T-Mobile hotspots purchased from WalMart come with some exclusive monthly data plans that are even better than the one's advertised on T-Mobile's website.
It's confusing because there is literally no information provided anywhere on this, but when I first fired up my T-Mobile hotspot and followed the directions for purchasing a monthly plan, the plans offered were different than what T-Mobile shows on their website for the same exact service and mobile hotspot.
This is what T-Mobile advertises on their website for the no-contract data plans for their mobile hotspots:
5GB 1-month pass for $50
3.5GB 1-month pass for $35
1.5GB 1-month pass for $25
300MB 1-week pass for $15
And these are the plans T-Mobile is showing when I login to my account for the T-Mobile hotspot purchased from WalMart:
5GB 2-month exclusive pass for $50
3.5GB 2-month exclusive pass for $35
1.5GB 1-month pass for $25
300MB 1-week pass for $15
I thought maybe the exclusive offer was just for the first purchase. But that's not the case. After my first two months expired the exclusive passes are still available. In fact, I went with the 3.5GB plan. That works out to 1.75GB per month for $17.50. That's a really good deal compared to everything else out there, especially for 4G.
The obvious conclusion here is that T-Mobile hotspots purchased from WalMart get the exclusive offers, which is a common thing for WalMart to do, but they usually at least advertise that fact.
I asked T-Mobile support about this to try and get confirmation but of course they weren't any help whatsoever. As far as I can tell, they don't offer these exclusive plans for hotspots purchased from them. If they do, their entire marketing department needs to be fired because they are advertising different plans on their website and nobody knows anything about these exclusive offers.
4G Mobile Hotspot Review
Now that I've explained the background information, it's time for the actual mobile hotspot review.
T-Mobile offers two different mobile hotspots. I went with the basic model (it's expensive enough). The "Sonic" model has some upgrades like text messaging and USB tethering that I didn't need.
The device basically looks like a small cellphone. It has a power button and WPS button on one side, and a slot for an optional antenna booster cable on the other side. It has a microSD card slot for storing additional media files and a micro USB port for connecting to the included charger. The battery last for about 4 hours of continuous streaming.
On the front there's a small LCD window that shows the status of the wireless connection and how many wireless devices are connected to the hotspot.
The hotspot seems fairly solid and sturdy. I accidentally dropped mine from about 4 and a half feet onto a hard surface and it didn't suffer any ill effects, and there were no dents or dings. The front and back surface does scratch very easily, however. Mine is already all scuffed up and I thought I was taking good care of it…
When it comes to using the wireless hotspot, connecting is as easy as entering a WiFi password just like you would on any secured router. It comes with a default password that you can change after setup.
Generally it connects fast, and it will connect automatically after your device remembers the password like any router. But sometimes I have problems getting it to work initially. It says "4G" and the device shows up as connected, but internet doesn't work. Turning off the hotspot and restarting fixes the issue.
This isn't only problem I encounter either. The device is inconsistent at best. It works fine sometimes but other times it won't give a reliable connection. It can be streaming fine from a certain location and then the next time it won't connect in the same exact spot. Drives me nuts.
It also only seems to work well when it has a 4G connection. Anything else and it just seems to hang and the connection times out. Sometimes the device will show a full signal, 5 bars, and yet that doesn't matter. If it doesn't say 4G in the corner it won't work for crap. A lot of times it will have a full signal but it will have an "E" for Edge coverage or display a number code or some other code. I can never get the device to connect to the internet at all when it shows any of those. I assume it would work over 3G, but that option never seems to come up in my area.
When it comes to speed, 4G is where it's at. When I have a good 4G connection with this device internet streaming is nice and fast. Right before my plan expired I still had plenty of data to use so I tried streaming HD video from Netflix and it worked well for an hour or so until the plan expired.
I tried doing some bandwidth speed tests and for some reason they aren't coming out right. The first test came back 468MB download and 108MB upload. I tried a different site and it usually comes back with something like 93MB download and 15MB upload. Uhh, I still don't that's right. It's fast but it's not that fast.
Conclusion
When it comes right down to it, I like the T-Mobile hotspot and it certainly comes in handy and I often use it when away from the house, but I also hate the device with a passion sometimes so I'm only going to give it a hesitant recommendation. The fact the hotspots are so expensive is a huge negative. If they were only like $50 it would be a different story.
I got one because I was sick of hunting for public WiFi hotspots when using tablets away from the house. But now I often find myself searching for somewhere the T-Mobile hotspot gets a good 4G signal. When you are at the periphery of T-Mobile's coverage area, I've noticed the actual coverage isn't as good as T-Mobile shows on their coverage maps. I've come across a number of places that it doesn't work where the map says it will.
So the moral of this story is to double-check T-Mobile's coverage map to see if you have blanket 4G coverage in your area before getting one. I would also advise getting one from WalMart instead of T-Mobile because the exclusive plans are much better, provided they continue to offer them, which is anyone's guess. I didn't end up using as much data as I thought I would so the $35 plan for 2 months is about perfect for my needs.
T-Mobile sells the mobile hotspots from their website for cheaper—in fact the regular unit is on sale for $69 as of this review—but with their 1 month plans the savings get lost pretty quickly.
T-Mobile also offers 2 years contracts, but the no-contract plans are the way to go in my opinion. There are no overage fees or extra costs and you only have to pay when you want to use it. Just be extremely careful not to use the device after the data plan expires if not using auto-renew because in typical ripoff fashion, T-Mobile charges $0.20 per MB after your plan expires! That's $200 per GB! I hate how cell phone companies always look to ripoff unsuspecting people every chance they get. It shouldn't be allowed. In fact I went into my account and removed the credit card on file just so they couldn't do that even if they tried.