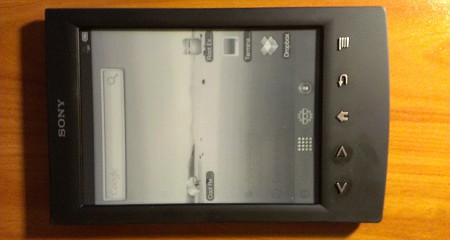 A couple of weeks ago I penned an article about how it didn't look like the Sony PRS-T2 would get hacked to run Android apps anytime soon. Luckily, a lot can change in two weeks.
The savvy developers, especially Boroda, over at MobileRead and The eBook have successfully managed to unlock the Sony PRS-T2 and get it rooted.
There's even a rooting package available now that makes hacking the PRS-T2 to turn it into an ultimate ereading machine and quasi Android tablet as easy as downloading two files and clicking an install file a couple of times.
The rooting package is the same as the one for the PRS-T1, and includes the Zeam launcher for an alternate homescreen and there are some additional ereading apps pre-installed too.
Unfortunately my computer is not cooperating this morning so I haven't been able to test this out myself. For some reason it refuses to properly recognize the PRS-T2, and installing Sony's software and uninstalling and re-installing drivers doesn't help. This is one of the reasons why I hate having to use USB cables so much.
Anyway, here's the link to the translated rooting directions and here are the original directions in Russian.
First you have to jailbreak the Reader and then you can install the rooting package for some apps. You are going to need a microSD card for jailbreaking, and the PRS-T2 needs to have the latest firmware installed (1.0.03.09110).