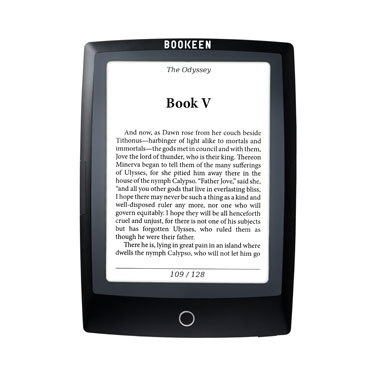 The Cybook Odyssey HD Frontlight is among the latest wave of ebook readers to come with small LED lights built into the frame to illuminate the screen for reading at night and in low light.
Like the Kindle Paperwhite and Kobo Glo, the Cybook HD uses a 6-inch high-resolution 1024 x 758 E Ink Pearl display. Other specs include 2GB of memory, a microSD card slot, Wi-Fi for browsing the web and downloading ebooks, and a capacitive touchscreen. It also has something called HSIS, which basically translates to high speed E Ink for faster refreshes and smoother scrolling.
Below is a lengthy video review from a German website, Lesen.net, showing the Cybook Odyssey HD in action. The video is in German, but even if you don't speak the language it's a good demonstration of the frontlight, which looks pretty good. There are some shadows at the bottom of the screen, but that's typical of all frontlight ereaders.
The Cybook Odyssey HD is available in Europe for 129 euros. The official release date is November 20th. Bookeen also just recently announced a partnership with Thalia, the top bookseller in Germany, to sell the Cybook Odyssey in 300 stores and online.
Bookeen Cybook Odyssey HD Frontlight Review