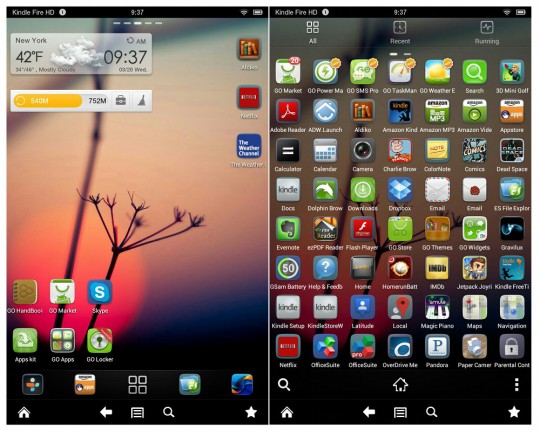 Thanks to a tip, I can confirm that there is indeed a workaround to get Go Launcher Ex to work on the Kindle Fire HD tablets, and it doesn't require rooting, hacking, or anything complicated like that.
Basically all that is required to use Go Launcher is one extra tap on the screen after installing a secondary app. It's not exactly convenient, but it works. And it provides another alternative to Amazon's limited carousel homescreen that always seems to display whatever icons it wants.
Like with other homescreen alternatives for the Kindle Fire (ADW Launcher for example), not all features work because of conflicts with Amazon's custom UI, but Go Launcher is free so all it costs is some time to initially setup and explore.
I tried using it a little today and I was able to get some of the Go widgets to work, such as the weather widget and quick controls widget. But I couldn't figure out how to install a different wallpaper or any of the themes. All the "Go" links want to direct to the Google Play store, which doesn't work on the Kindle Fire HD unless you root it.
Here's how to install Go Launcher on the Kindle Fire HD:
1. First, make sure your Kindle has "allow installation of applications from unknown sources" turned on in settings under device.
2. Download and install Go Launcher from 1Mobile or some other alternative appstore. You can install the 1Mobile app if you want but I never cared for it so I just used the Kindle's web browser to download from the link above. To do that make sure you choose "install to PC" from the drop down list to get the apk file.
3. After installing Go Launcher, download and install Go TouchHelper. You can then use Go TouchHelper to get to Go Launcher. Just pin it to your favorites menu to get to it quickly.
Tip: The first time I opened Go TouchHelper it was using some confusing WP theme. To change it hit the settings wheel icon and then choose the default theme from the settings menu. From there you just have to hit the purple home icon to get to the Go Launcher homescreen.
(Thanks for the tip, Jacob)