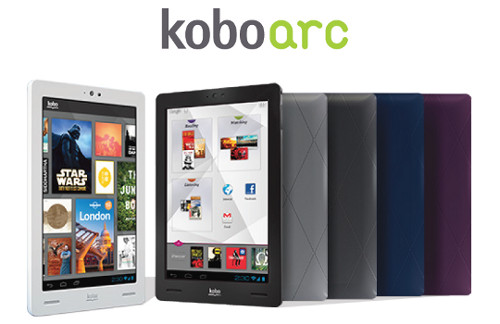 Kobo announced today that they've released a firmware update for the Kobo Arc tablet that upgrades the operating system and adds some new features.
The Kobo Arc is Kobo's latest 7″ tablet. It has a 1.5 GHz dual-core processor, a high resolution 1280 x 800 screen, and comes with options for 16GB, 32GB, and 64GB models. Basically the Kobo Arc is Kobo's answer to the Kindle Fire HD, except it comes with an open operating system with full support for Google's apps, including the Google Play marketplace.
Up until now the Kobo Arc ran Android 4.0, also know as Ice Cream Sandwich. Now the update gives it Android 4.1.1 Jelly Bean.
The update reportedly improves device performance, making it faster, as well as adding enhanced search capabilities, increased touch responsiveness, and additional intelligence features. The main feature improvements include:
Google Now: Perfect for on-the-go Kobo Arc users looking for an easy way to organize their busy schedules, Google Now personalizes information based on a user's location, time of day, history, and calendar events. Google Now shows restaurants in the area, how much traffic to expect before the morning commute, when the next train is coming, the score of a current game, a flight status, and more.

Richer notifications: Kobo Arc users will never miss a beat due to a richer notification experience. They can now action notifications directly within the notifications area as well as expand and collapse notifications to display more or less detail.

Improved search: Finding online content has never been easier with text or voice searches, which are now presented in a visually rich way. Google Search can be opened directly from the locked screen by swiping up and users have the option to simply say "Google" to activate Voice Search within the Google Search screen.

Optimized voice recognition and boosted predictive typing: To complement speech-enabled online searches, Jelly Bean introduces impressive text-to-speech capabilities and an embedded speech recognizer that enables Voice Typing without an Internet connection. For those who prefer typing, an all-new keyboard lets them glide over letters to type a word while it dynamically predicts text.

Face Unlock: Keeping the Kobo Arc secure has never been easier with the improved Face Unlock, which now calibrates in different conditions and can now optionally require a blink to verify a live person is unlocking the device. In addition, users can feel safer with improvements in malware blocking.
If you have a Kobo Arc it should update the to the new software automatically. To speed the process up, first connect to Wi-Fi, and then go to Settings >About Tablet > System Update.