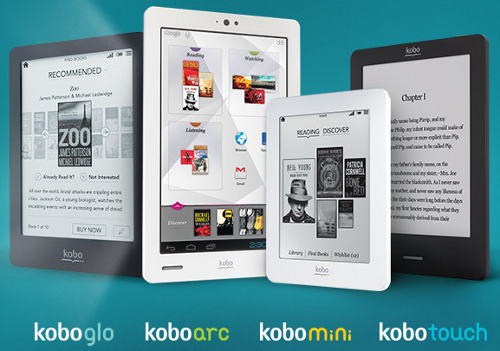 Kobo announced the launch of a revolutionary new concept today. They've finally decided to enter the 21st century and start selling their Kobo ereaders and tablets directly from Kobo.com. Gasp!
Kobo used to sell the Kobo Touch and Kobo Vox from their website, but inexplicably removed the buy option last fall right before the busy holiday shopping season, and they never did add the option to buy their newer line of ereaders and tablets, making them very difficult to get a hold of in the United States. We all wondered what was wrong with Kobo and why they were making it so hard to purchase one of their ereaders when Amazon makes it so easy to purchase a Kindle.
Now things have finally changed. The Kobo Glo, Kobo Mini, Kobo Touch, and Kobo Arc are all available for purchase directly from Kobo.com when ordering from the United States and Canada.
Presumably you can buy covers and other accessories too, but right now the link at Kobo isn't working and is just directing to a 404 error page (you'd think that someone at Kobo would actually check to make sure things are working before issuing a press release). While I'm pointing out flaws, I might as well mention that all of the description pages for the products at Kobo still lead to the confusing "Where to Buy" pages instead of Kobo's own online store. So unless customers happen to find the one page with the "buy now" buttons, I guess they are out of luck. Kobo might as well just put up some advertisements for the Kindle while they are at it.
In all seriousness, it's good to see Kobo finally getting with the times. The Kobo Glo, Kobo Mini, and Kobo Arc have been out for about a half a year now. The Kobo Mini sells from Best Buy, but not the other two. And with no other major retail partners in the U.S. the only other place to get them was from a small number of indie bookstores like Powell's Books and Family Christian Bookstores. That's not going to get Kobo very far when trying to contend with the likes of Amazon.
Now let's just hope that the buying process actually works. I once tried ordering the Kobo Vox from Kobo.com after it first came out and nothing ever happened. After completing the online ordering process, I wasn't charged, it didn't ship. Nothing.