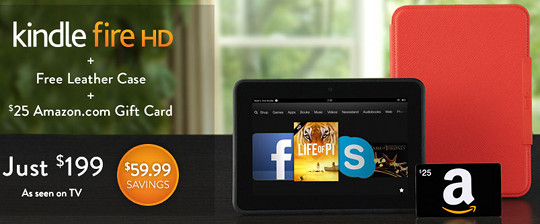 It's getting close to that time of year when Amazon announces the release of new Kindles. That means it's time for Amazon to start offering sales on some of the current generation Kindles to make room for the new models.
If you don't care to wait for the new Kindle Fire tablets, Amazon is running a killer deal on the 7-inch Kindle Fire HD right now. They've cut $40 off the regular price, making the base model $159. But that's not the killer deal.
The folks at Slickdeals have found a special TV offer where you can get a 16GB 7-inch Kindle Fire HD with a Standing Leather Case and $25 Amazon Gift Card, plus free shipping for $144. This is how the deal works:
Click Here to get a Free Voucher for 50% off Kindle Accessories from Amazon Local; the Voucher will automatically be applied to your Amazon account.
Click Here to add a 16GB Kindle Fire HD 7″ Tablet + $25 Amazon GC + Standing Leather Case to your cart.
Proceed to checkout, total should be $144.
Update: It looks like Amazon has closed the door on this special TV offer; they've added a disclaimer that says it can't be combined with any other sales. You can still get a KFHD for $159 and use the 50% off accessories voucher, but the $144 deal with the case and gift card is out the window.
Some people at Slickdeals are also mentioning an offer to get Amazon Prime for $59 (it normally cost $79).
While checking Amazon's website for this offer, I also noticed that they are now selling the 9.7-inch E Ink Kindle DX for $239 with free shipping.
That's $60 off the regular price, and is the lowest it has ever sold for; that even beats past Black Friday and Cyber Monday deals. The very same Kindle DX used to sell for a whopping $379 before it got discontinued and then resurrected this past year.
Aside from Kindle devices on sale, Amazon is also running sales on select Kindle ebooks. The Big Deal is back where you can get up to 85% off Kindle Books. But this deal ends today, August 4th. There's also the usual Kindle Daily Deals and Monthly Deals with Kindle eBooks for less than $3.99.