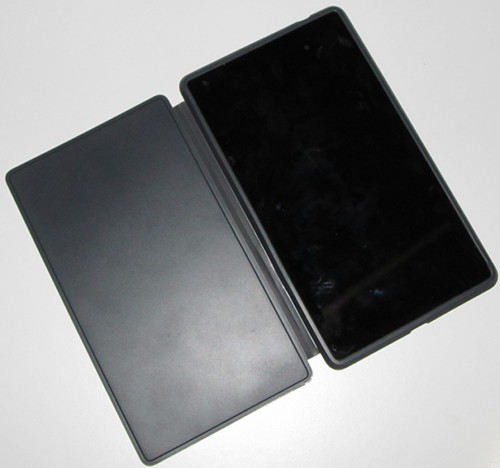 Last week I posted an article with a list of 10 covers and cases for the 2nd gen Google Nexus 7 tablet. Before posting the article I had already ordered the official travel cover for the Nexus 7 that is made by Asus.
At the time there weren't any reviews for it so it was kind of a gamble. In retrospect I wish I would have waited and purchased a different cover off the list, especially considering several are about half the price of the Asus cover.
Maybe I'm being too critical of the Asus travel cover, but I flat out don't like it and think it is way overpriced for what I paid at $22.50. Here's the low-down:
Review: Asus Travel Cover for 2nd Gen Nexus 7
Pros
The cover is light and thin and fits the new Nexus like a glove.
Has cutouts for all the ports, speakers, and camera.
Front cover folds all the way back, unlike the Acase cover I reviewed for the Kindle Fire.
Available in various colors.
Cons
The cover flap doesn't stay closed; there is no attachment whatsoever so unless gravity is holding it closed it flaps open all the time.
No built-in magnet to activate the sleep/wake feature on the Nexus 7.
Feels cheap and very flimsy, and offers little to no impact protection.
Can't be used as a stand to prop up the Nexus 7 like most other covers, front flap is too flimsy.
Verdict
Maybe my expectations were too high, but I don't like this cover at all and cannot recommend it for the price it is currently selling at ($19.00). It looks the like the early reviewers at Amazon agree with me; it has a 2.7 star rating over 48 reviews.
Personally I would give it a 3 star rating. The cover works and serves its purpose and there's nothing physically wrong with it so I can't give it 1 or 2 stars, but if I had to do it over again I would definitely get something else instead. The front flap is the biggest deal breaker because it just doesn't stay closed very well and feels too flimsy.
Asus Travel Cover for Nexus 7 II Video Review