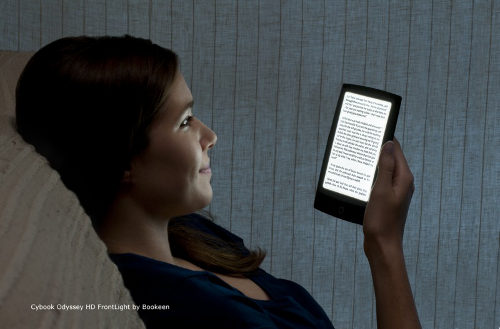 For those of you that live in Europe, there will be two new choices for ebook readers this fall from Bookeen, makers of the France-based Cybook brand of ereaders.
The most intriguing of the two is the Cybook Ocean. What's unique about it is that it's the first Cybook ereader to have an 8″ screen. The resolution is 768 x 1024, which is the same as some 6″ models, so tiny text isn't going to be quite as sharp, but with the larger screen size slightly larger fonts are probably better suited for it anyway.
One of the more vaunted features is the fact the Cybook Ocean is only 7mm thick, which translates to just over a quarter of an inch for us westerners. By comparison, the new Kindle Paperwhite is 9.1mm thick.
Other features for the Cybook Ocean include a built in frontlight, up to 10 weeks of battery life, it comes with 4GB of internal memory, and supports microSD cards for further expansion.
The Cybook Ocean will be released in early November and will cost about 160 euros.
The second new ebook reader from Bookeen, the Cybook Odyssey Frontlight, is kind of an odd new unit. It's basically a downgrade from the current Cybook Odyssey Frontlight, which has an HD E Ink screen. This new one just has a regular 600 x 800 resolution 6″ screen. But it also has a lower price.
As the name implies, it too includes a frontlight. It also has 4GB of internal memory and a microSD card slot, and up to 9 weeks of battery life. Bookeen is also quick to point out it offers the choice of use of physical buttons or a touchscreen.
The new Cybook Odyssey FrontLight will be available in mid-October for about 100 euros.
via: Bookeen Blog