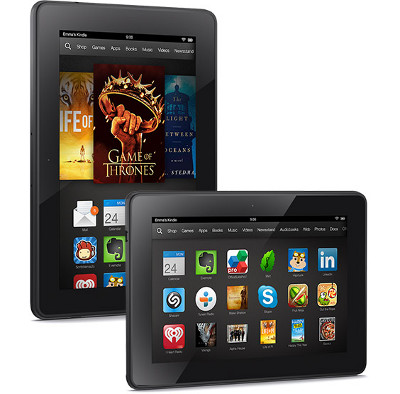 Late last night a shipping notice turned up in my inbox for the 7″ Kindle Fire HDX. The device is scheduled to show up Monday the 14th. I was surprised to see a shipping notice so soon because when I placed the pre-order it said the estimated delivery date would be between Thursday, October 24 and Saturday, October 26.
It looks like Amazon has started shipping the Kindle Fire HDX a couple of weeks early :). I guess I shouldn't be surprised because Amazon often ships Kindle pre-orders ahead of schedule. In fact I've grown so accustomed to it that I found it a little strange when my Kindle Paperwhite 2 arrived the exact day that they originally said it would.
Unfortunately I'm not at all prepared for this early arrival. I'm working on wrapping up the Kobo Aura review this weekend, with the Kindle Paperwhite 2 on deck, and now the Kindle Fire HDX is going to be here in a couple of days? I'm probably the only person that ordered one that's not psyched about the early shipment :).
Also I'm just all that impressed with what Amazon is offering this year and am very skeptical about the entire Kindle Fire HDX line. I think the increase in price up to $229 for the base model with ads is a mistake, which matches the price of the new Nexus 7 without ads. And then there's the fact that the Nexus 7 has a whole lot more going for it than the Kindle Fire HDX, which includes GPS, NFC support, a rear camera, wireless charging, and tons of software upgrades.
Amazon is really going to have to impress me with the Kindle Fire HDX because I'm just not seeing a reason to buy it over the Google Nexus line on paper. Same goes for the 8.9″ Kindle Fire HDX at $379. I just don't see how it's a better tablet and value than the Nexus 10 from last year, which is down to $345 at the moment.
But that's what reviews are good for, and I'll get one posted before the end of the month. If your Kindle Fire HDX shows up early feel free to share your early opinions below. Do you think it stands a chance against the Nexus tablets and iPad?